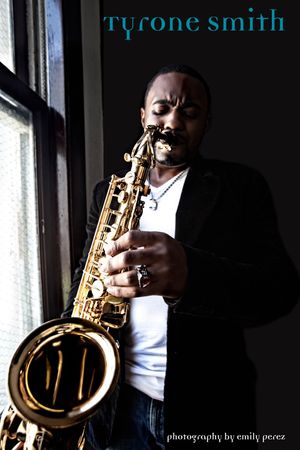 Dallas-born, New York-based Musician, Producer, Composer,

entrepreneur, civil rights activist, and positive perspectives enthusiast

Tyrone Smith was

born

on March 18th, 1986. Growing up surrounded by family members with multiple talents in the area of music whether it be singing, playing, composing, arranging, or even the occasional solo his grandfather would sing after preaching a sermon.
   By the age of 11,
Tyrone Smith
had picked up playing piano, organ,
saxophone
and was rigorously Intent on honing his craft. Raised up on Gospel and R&B, by mid-teens he was listening to rock, jazz,
funk
, and hip-hop.
  Tyrone
attended
Booker T.
Washington High School of the Visual and Performing Arts
. While in high school he participated in the jazz combo as well as the R&B ensemble. Mentored by great musicians like: Shelly Carol, Roger Boykin, Jim Riggs, Pat Franklin, and others.
Tyrone
worked to improve his playing skills throughout his high
school career while also earning awards like: Downbeat Student awards , NAACP ACT-So winner, Wabash School of Music Scholar
and many others. Tyrone moved to New York City to study at
The New School University of
Jazz & Contemporary School
. 
  As a musician and producer he has worked for
artists
including
Al Jarreau, Reggie Workman, Joss Stone , Erykah Badu,
Bernard (Pretty) Purdie
, Benny Powell, Lonnie Plaxico, Musiq Soulchild, KT Tunstall, Charlie Persip, Roy Hamilton III, Ky-Mani Marley , Eliza Neals, Kelly Wright and many other artists .
   In addition to being a musician and producer to the stars Tyrone  worked feverishly to integrate his brand as a public figure and solo music artist.
  Tyrone
signed a record deal with 18th and Vine Records with an international distribution deal with Allegro Media Group in 2009. The album entitled "
Playing It By Ear
" which was
produced
by industry veteran Grammy winning producer Jack Kreisburg was released in May of 2010 not only showcasing
Tyrone
as the primary artist but also included 5 original songs  by him and enlisted the talentsof top tier talents like Onaje Allan Gumbs, Vince Ector, Bob DeVos, Ron Anthony, Sarah Elizabeth Charles, Marcus McLaurine and Ben Elliot as engineer. Not only is
Tyrone
an outstanding musician, He is also a savvy business man. Capitalizing on his position and relationship with major record labels he began routing all production projects and solo releases through the production company he founded years prior to his major accomplishments
T's Groove Inc
.  
"Music is your own experience,
your own thoughts, your wisdom.
If you don't live it, it won't come out
of your horn. They teach you there's a boundary line to music. But, man, there's no boundary line to art."
- Charlie "YardBird" Parker